Would you like to scoop extra bucks by playing dice on bitcoin casinos? Try out the Stake's platform as they run regular daily races with $100,000 in prize pools. These are the biggest wager contests running on a regular basis and you can enter the battle for the top prize of ~$25k.
Stake.com Daily $100,000 Wager Race
Enter the race by playing any available casino game (dice, plinko, slots, blackjack, roulette,…) or placing a sports bet on Stake.com
Each day $100,000 will be distributed among the top 5,000 players
The winner gets around $25,000 worth of crypto
Don't waste time and hop into the action, there are plenty of high-rollers battling daily for thousands of dollars.
Not only you'll get a cash prize from the wager race, but you also collect raffle tickets for the 50K weekly giveaway along the way.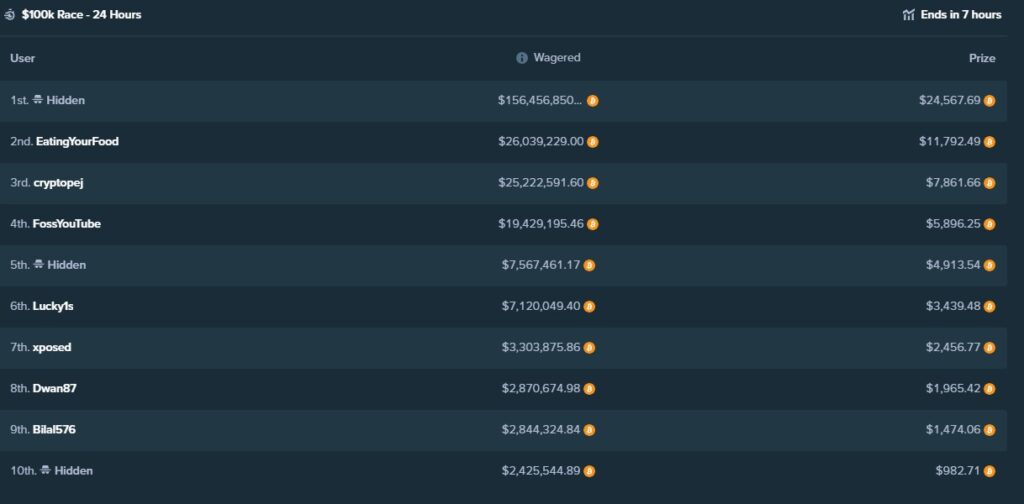 Similar to the classic daily 100K race, Stake.com runs a 90-minutes sprint race with a total of $25,000 rewarded in prizes
Show the world you've got enough speed to put in the large bets quickly
The winner gets around $8,000 worth of crypto
Stake.com is a crypto casino and sportsbook, they belong among the biggest betting sites in the world.
It provides in-house games (including Dice) with a low in-house edge, 3rd party slots, and the live casino.